My Message to Travis Alexander's Family
First seen on HLN TV, March 22, 2013 (#JodiArias)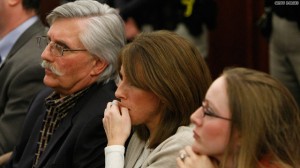 For nine months I sat in the public galley, never missing a day, hoping that my grief, my loyalty, my loss would somehow impact the jury enough to find him guilty of brutally and viciously stabbing my brother to death on June 12, 1994.
I endured hours and hours of painful recollections of Ron's last moments; the step-by-step details of how hard he fought to save Nicole Brown's life and that of his own, and how long he lay slumped over a tree stump, until he took his last breath — "about a minute," the coroner said. I saw the graphic, unedited photos of his lifeless, blood-soaked, butchered body, staring back at me; they still haunt me until this day.
I saw the worst and I will never forget it.
by